List of APA-Accredited Counseling Psychology Ph.D. and Psy.D. Programs
---
This is a list of counseling psychology doctoral (Ph.D. or Psy.D.) programs that are currently accredited by the American Psychological Association. To learn more about each program, click on the name of the University to navigate to that doctoral program's website.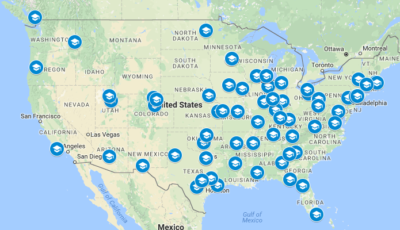 Click on this picture to access an interactive map detailing the geographic location of all programs.
This list was last updated on 1/29/2017, and does not include programs that are no longer accepting new students.  Please report errors or dead links to the webmaster so that this page can remain up to date.  Programs that are members of the Council of Counseling Psychology Training Programs and not yet accredited by APA are indicated with an asterisk (*).
List of Programs
The University of Akron (PhD)
Department of Counseling
Department of Psychology
University at Albany, State University of New York (PhD)
(formerly listed as State University of New York at Albany)
Department of Educational and Counseling Psychology
Arizona State University (PhD)
School of Letters and Sciences
Northern Arizona University (Ph.D.)
Combined Counseling/School Psychology
Department of Educational Psychology
Auburn University (PhD)
Department of Special Education, Rehabilitation, & Counseling/School Psychology
Ball State University (PhD)
Department of Counseling Psychology, Social Psychology, and Counseling
Boston College (PhD)
Department of Counseling, Developmental, and Educational Psychology
Brigham Young University (PhD)
Counseling Psychology and Special Education
University of British Columbia (PhD)
Department of Educational and Counseling Psychology, and Special Education
University of California, Santa Barbara (PhD)
Department of Counseling, Clinical, & School Psychology (CCSP)
Carlow University (PsyD)
Department of Psychology & Counseling
University of Central Arkansas (PhD)
Department of Psychology and Counseling
Chatham University (PsyD)
Graduate Psychology Programs
Cleveland State University (PhD)
Department of Counseling, Administration, Supervision, and Adult Learning
Colorado State University (PhD)
Department of Psychology
University of Denver (PhD)
Morgridge College of Education
University of Florida (PhD)
Department of Psychology
Florida State University (Combined PhD)
Counseling Psychology and School Psychology
Fordham University (PhD)
Division of Psychological and Educational Services
University of Georgia (PhD)
Department of Counseling & Human Development Services
Georgia State University (PhD)
Department of Education
Department of Counseling and Psychological Services
University of Houston (PhD)
Department of Educational Psychology
Howard University (PhD)
School of Education
University of Illinois at Urbana-Champaign (PhD)
Department of Educational Psychology
Division of Counseling Psychology
Indiana University—Bloomington (PhD)
Department of Counseling and Educational Psychology
University of Iowa (PhD)
Division of Psychological and Quantitative Foundations
Iowa State University (PhD)
Department of Psychology
University of Kansas (PhD)
Department of Psychology and Research in Education
University of Kentucky (PhD)
Department of Educational , School, and Counseling Psychology
Lehigh University (PhD)
Department of Education and Human Services
Louisiana Tech University (PhD)
Department of Psychology and Behavioral Sciences
University of Louisville (PhD)
Department of Educational and Counseling Psychology
Loyola University of Chicago (PhD)
School of Education
Marquette University (PhD)
Department of Counselor Education and Counseling Psychology
University of Maryland—College Park (PhD)
Department of Psychology/Department of Counseling and Personnel Services
University of Massachusetts Boston (PhD)
Department of Counseling and School Psychology
The University of Memphis (PhD)
(formerly listed as Memphis State University)
Department of Counseling, Educational Psychology, and Research
University of Miami (PhD)
Department of Educational and Psychological Studies
University of Minnesota (PhD)
Department of Psychology
University of Missouri—Columbia (PhD)
Educational, School, and Counseling Psychology
University of Missouri—Kansas City (PhD)
Division of Counseling, Educational Psychology and Exercise Science
University of Nebraska—Lincoln (PhD)
Department of Educational Psychology
New Mexico State University (PhD)
Department of Counseling and Educational Psychology
New York University (PhD)
Department of Applied Psychology
University of North Dakota (PhD)
Department of Counseling Psychology and Community Services
University of North Texas (PhD)
Department of Psychology
Northeastern University
Department of Applied Psychology
University of Northern Colorado (PhD)
Department of Counseling Psychology
University of Oklahoma (PhD)
Department of Educational Psychology
Oklahoma State University (PhD)
School of Applied Health and Educational Psychology
University of Oregon (PhD)
Department of Counseling Psychology and Human Services
Our Lady of the Lake University (PsyD)
School of Professional Studies
Purdue University (PhD)
Department of Educational Studies
Radford University (PsyD)
Department of Psychology
Seton Hall University (PhD)
Department of Professional Psychology and Family Therapy
University of South Alabama
Department of Psychology and Department of Professional Studies
Southern Illinois University-Carbondale (PhD)
Department of Psychology
University of Southern Mississippi (PhD)
Department of Psychology
Saint Mary's University of Minnesota (PsyD)
Graduate School of Health and Human Services
Springfield College (PsyD)
Department of Psychology
University of St. Thomas (PsyD)
Graduate School of Professional Psychology
Teachers College, Columbia University (PhD)
Department of Counseling and Clinical Psychology
University of Tennessee—Knoxville (PhD)
Department of Psychology
Tennessee State University (PhD)
Department of Psychology
Texas A&M University (PhD)
Department of Educational Psychology
University of Texas at Austin (PhD)
Department of Educational Psychology
Texas Tech University (PhD)
Department of Psychology
Texas Woman's University (PhD)
Department of Psychology and Philosophy
University of Utah (PhD)
Department of Educational Psychology
Utah State University (PhD)
College of Education and Human Services
Virginia Commonwealth University (PhD)
Department of Psychology
Washington State University (PhD)
Department of Education
West Virginia University (PhD)
Department of Counseling, Rehabilitation Counseling, and Counseling Psychology
Western Michigan University (PhD)
Department of Counselor Education and Counseling Psychology
University of Wisconsin—Madison (PhD)
Department of Counseling Psychology
University of Wisconsin—Milwaukee (PhD)
Department of Educational Psychology